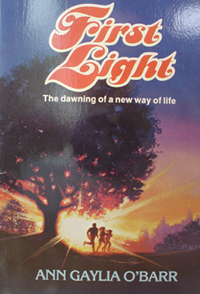 The light of understanding may come to us at any time.
"Aren't you afraid of anything?"
He considered her question seriously for a moment.
"I suppose if I were afraid of anything it would be that life had no meaning … Occasionally—just occasionally—I feel glorious, as though 'God's in his heaven—All's right with the world.' But that's mostly just a feeling, based on a delightful spring day or some other circumstance which could change.
"I guess my sister, while she lived, gave me a meaning, or a reason, for living. Now, of course, I have Kim. If I wanted to thank God for something, it would surely be that." His eyes wandered to his niece, who had found the swings and was swinging with joyful abandonment, her only concern to see how high she could go.
He continued, "But children grow up. Spouses die or," he said, too lightly, "they stop loving you. You retire. You become physically disabled. Many of the stories I cover don't turn out right. What you need, you see, is a meaning that doesn't grow up or away or turn sour. Don't you agree?" He turned to Jenny, studying her closely.
Three people come to the dawning of a new way of life: Ward Frazier, a newspaper reporter accustomed to hard living; Jenny Ingalls, a church secretary who was afraid to risk a close relationship; and Kim, Ward's niece, who had already experienced tragedies in her young life.
Buy this book from: